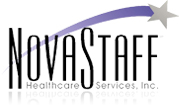 Employee Benefits
NOVASTAFF benefits include
SHARING OUR SUCCESS Since 1990, NOVASTAFF Healthcare Services, Inc. has been committed to providing nursing and healthcare professionals to healthcare organizations within the greater Chicago metropolitan area. This success is in large part due to the contributions of our dedicated staff and clients.
EXCELLENT PAY RATES NOVASTAFF compensates employees with some of the best rates in the industry including merit increases based on performance! Contract and Per Diem are available.
EMPLOYEE REFERRAL INCENTIVE Do you have a friend or co-worker interested in NovaStaff? Special incentives are available if you refer someone who is hired by NOVASTAFF. Ask us for details!
DIRECT DEPOSIT For your convenience direct deposit is available to all employees immediately upon enrollment. Paychecks are deposited each week directly to your designated savings, checking, and/or credit union account.
401k RETIREMENT NOVASTAFF employees who work 1000 hours per calendar year are eligible to enroll in our 401k retirement plans. A leader in the industry, Principle Financial Group administers and offers fifteen investment choices to meet your individual and retirement needs. NOVASTAFF offers a matching contribution with an excelerated vesting schedule.This is an excellent opportunity to reduce taxable income while contributing to your retirement fund.(see www. Principal.com for details)
CREDIT UNION Membership in the Credit Union 1 is available to all employees and their family members. Once a member, always a member. Financial services include checking and savings accounts, loans, and financial planning.