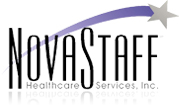 FAQ's for Healthcare Facilities
How can NOVASTAFF assist me in my staffing needs?
NOVASTAFF President, Joni Phillips, RN, MBA, understands firsthand how the immediate needs for nurses and other nursing personnel impact your current staff and patients. We strive to build a partnership with you that enables us to respond to your staffing needs on a short-term basis, but also to support you longer term as we face the workforce challenges together.
What is the philosophy of NOVASTAFF?
NOVASTAFF employees strive to care for and support patients in the same manner that you do in providing quality patient care. Our employees know that we expect customer responsiveness and service of the highest caliber. We maintain the highest standards of integrity in our hiring and evaluation processes to assign the best-qualified employees to fill our customers' needs. As a member of the American Association of Staffing Agencies and Illinois Staffing Association, along with numerous other healthcare associations, we uphold a code of ethics that enables us to pledge our adherence to all standards, regulations, and laws applicable to our business and yours. Although errors are rare, our policies demand we address any problematic issues or concerns (our "sentinel events") quickly and honestly and "near misses" are analyzed for future prevention.
How is NOVASTAFF distinguished from other agencies?
Our core values provide the answer:
Respect for Human Dignity - We value each person as a unique individual to be respected and accepted.
Practice Excellence - We value quality in patient care, staff interactions, credentials, and education. We also do our utmost to maintain long term employment relationships with our staff to enable continuity in care to benefit you and your patients. We also provide unlimited access to free continuing education courses and articles for each nurse and require regulatory course modules (Joint Commission, OSHA, HIPAA) to be completed annually. Responsibility and Accountability - We value integrity, honesty, and acceptance for the work entrusted to us for the enhancement of quality care. As an employer, NOVASTAFF maintains insurance to cover each of our employees to relieve you of that burden.
Pride in Work and Relationships - We value our colleagues, our work and our accomplishments and take pride in bringing a contribution to every person whose life we touch. Our office staff and professional nurses and other personnel will demonstrate the personal commitment to our work, clients, and patients.
Individual customer costs: We understand the need to keep your expenditures in line with budget and help reduce those everyday expenses by keeping standardized, competitive rates but also individualize our financial relationship to be mutually beneficial.
Customer Service: Unlike some other agencies and companies, we staff 24 hours a day, seven days a week. NOVASTAFF operates the same shifts you do by staffing round the clock nurses and office personnel who are always accessible. Orders can be sent by fax, e-mail, or can be called in to our office. We strive for 100% live voice response to your phone calls and are proud to say we consistently meet or come very close to that goal. Our business is you!!!
How do you verify competency of staff?
All staff hired by NOVASTAFF has a minimum of one-year current experience in their field and specialty. They must pass our multiple exams by scoring 80% or higher in addition to completion and an in-depth interview including a skills inventory. Extensive reference checks are done including criminal background, drug and alcohol testing, results which are available to you. Candidates also need to provide proof of the standard credentials such current drivers license, an RN or LPN License, current CPR Card (issued by the American Heart Association at the health care professional level), immunity to Rubella, Rubeola, Hepatitis, Varicella, an annual physical, and an annual TB test. RN's must also pass our OSHA, Joint Commission, age-specific competency, and specialty tests.
What records will you provide me for employees?
Every staff is required to bring their license and CPR card with them to every shift. In addition, we ask that you provide a brief documentation on each time card to be incorporated into the annual evaluation. We will send you a comprehensive report of qualifications and verifications for every employee to document their credentials. If you require hard copies ofemployee specific credentials or test/medical examination results for such events as a Joint Commission survey, we can fax those to you upon request. We also provide records of annual CE courses taken.
What's the next step?
Please call Joni Phillips at our Oak Brook office, 630.472.1122 to arrange a meeting to discuss your needs and answer additional questions.