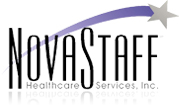 Employment Opportunities
Nursing Positions
NovaStaff is currently seeking experienced, motivated, and professional RNs, LPNs, and CNAs in all specialties for all shifts.
Specialty Nurse Positions
LPN's!! needed immediately for long term care facilities in Western Suburbs and throughout Chicagoland.
Med/Surg, Tele, ICU, ER RNs needed for contracts and per-diem.
Contracts Many Contracts Available Western Suburbs for ICU, Mom Baby and Tele RN's.
• MOTHER BABY NEEDS 2 PART TIME( 24HRS) CONTRACT RNS FOR 8 AND 12 HR NIGHTS FOR 13 WEEK ASSIGNMENT. - STARTING APRIL 16TH
• Cardiac Cath/IR nurses some on call required
• OR nurses (circulating and scrub) OR techs some on call required
• ICU/Med Surg/Tele RN's contract (every other weekend required for contracts) and per diem
• Medical Assts: North Suburbs
• MRI & CT Techs
• CNA's all areas, must have reliable transportation
ICU Need two RNs 7a-7p and two RNs 7p-7a 3 days a week. Starting ASAP.
Med/Surg Need an M/S RN to work PM shift. Starting ASAP.
Please contact us for more info.
630-472-1122 (phone)
630-472-1148 (fax)